8 Trending Products for an Amazing Glass Tile Shower
From researching online to looking through hundreds of tile options to find the best fit, remodeling your bathroom can be an overwhelming and stressful process. 
To help ease that stress, we did some of the work for you by creating this list of top trending products you can use to create and amazing glass tile shower. We've compiled some of our data as a major tile distributor along with customer feedback and selected the best of the best, let's get started.
1) Translucent Glass Tiles
Translucent glass, also known as "clear glass" are just that, glass tile that is see-thru. Bringing a tile like this into your bathroom can be a huge game changer in design. The bright light coming down from your ceiling will bounce off the glass and makes the space feel more open and brighter. Their translucent qualities help the color shine all the way through and create visual depth, especially if you use a white or contrasting grout.  
However, some glass tiles are truly translucent, like the Superior series by Aquatica.
These translucent glass tiles are certainly eye-catching with their see-through colors and subtle fluid-like texture. They create a luxurious feel for your shower, like you've covered the walls in shining gemstones. 
2) Glass Fish Scale Tiles
Glass fish scale tiles, also known as mermaid tile,  resemble a fan or scallop with a rounded top that ends in a point. This is very much a growing trend we've been seeing within 2020 and 2021. 
Like subway tiles, you can install the fish scale tiles in any direction. Their shape naturally adds flow and unity to the space.
For instance, the Brushed Turquoise glass fish scale tiles provide a subtle blend of blue shades that add intrigue all on their own. Paired with white grout, you can really emphasize their unique shape and highlight the way they visually expand your shower.
3) 24K Gold Glass Tiles
As mentioned, all-glass tiles have reflective properties that make them shine under the light. 
The Precious 24K gold glass tile takes that shiny, luxurious look to the next level.
Made with real 24 karat gold, this glass tile turns your shower into an extravagant, fashionable getaway unlike anything else. The reflective property of the glass will make your shower gleam in the tile's honey-warm color. 
Additionally, these gold tiles are particularly suitable for the shower due to their small size. To install, they will require a greater number of grout lines, which can form slip-resistant properties. 
4) Glass Arabesque Tiles
Also known as lantern or hourglass tiles, these tiles have an enchanting, flowing shape that has been part of stylish decors for years. 
Like fish scale tiles, the attractive hourglass tile can be installed in any direction. Also, if you use a contrasting grout color, the pattern really pops. Choosing a tile like this is sure to elevate your shower to the next level and form something more unique than standard subway tiles. 
Our arabesque glass tiles are made even more intriguing by their 3D color swirls that are embedded in each tile, making the pattern truly stand out. 
5) Hexagon Glass Tile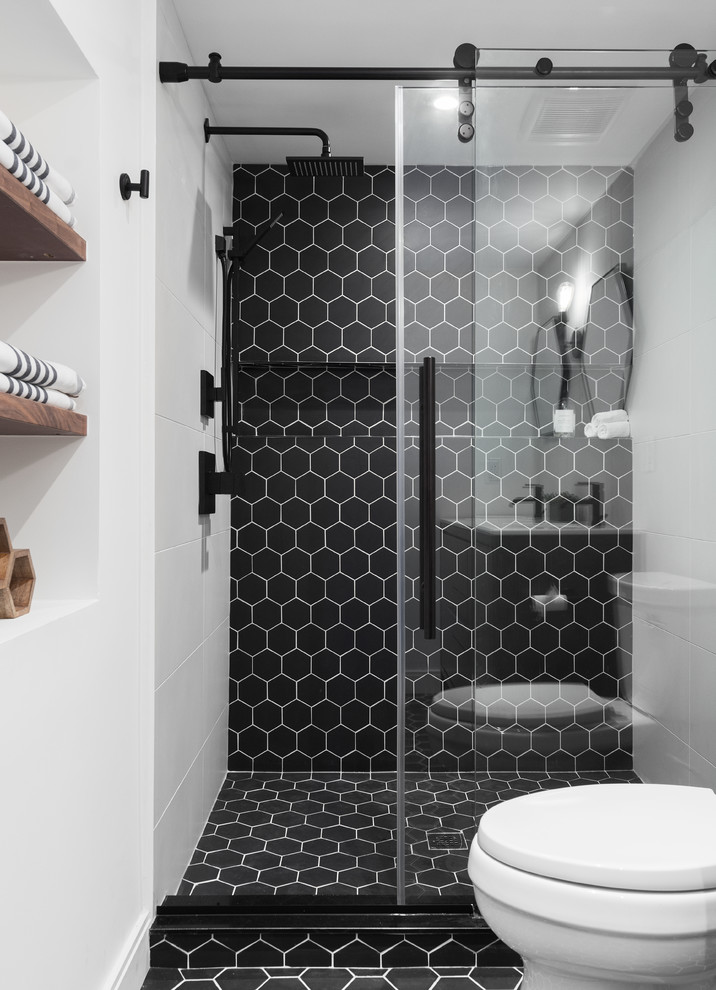 Hexagon glass tiles are a great choice if you are looking for more of a geometric design with clean lines. 
These tiles, once more simple as white "honeycomb" tiles from the 80's are now growing in popularity but now with a more updated style. Many are going with darker colors in this pattern, such as this Black Hexagon Tile for their shower. 
6) Iridescent Tile
If you're looking for a clean, modern and more fashionable choice for your shower tile, consider iridescent tile. 
Iridescent tile is normally very shiny and bright, having a glossy finish. This tile also comes in more interesting shapes such as pillow or penny round. So many different options for a high fashion bathroom design.  
7) Glamour Grout
When most people think of grout for their tile, they think of the standard white or off-white grout, but there are so many more options available to you!
One of them is the Starlike Glamour Grout collection where high-performance meets high-fashion. 
Not only does this collection work as both a tile adhesive and tile grout, but the grout also comes in a wide range of 15 stunning, bright colors. With their special additives, you can create up to 60 unique options and make the perfect combination to fit your tile and style. You make your shower stand out even more with these fun options.
8) Translucent Grout
If you want all the attention to be on the tile, however, the Crystal EVO 700 would be the right choice. 
This adaptive and translucent grout blends into the color of your tile until it almost disappears. Accordingly, these properties have given the grout the nickname, "The Chameleon Grout". 
By "disappearing", this grout makes the overall appearance seem more cohesive and adds flow to your shower. In particular, this translucent grout works well with smaller glass mosaic tiles, like the 24K gold tile we discussed earlier.
In conclusion, there are so many options when it comes to remodeling your bath and shower. Hopefully this article has helped you gain some insight on what your style is. Feel free to reach out to our team of tile experts to help you get your tile and everything else you need to install. 
Thanks for reading! - AquaBlu 
---