Best Tile Designs for Backsplashes in 2021
Choosing the tile for your backsplash is one of the best parts of redecorating. Since it generally covers a much smaller area than your main wall or floor tile, you can feel free to have more fun with it. That means that incorporating pops of color, a unique material or an interesting shape is less risky. 
Backsplashes provide a barrier that prevents food and water from being splashed on the wall. This protects against water damage and can help fight against pests, especially in your kitchen.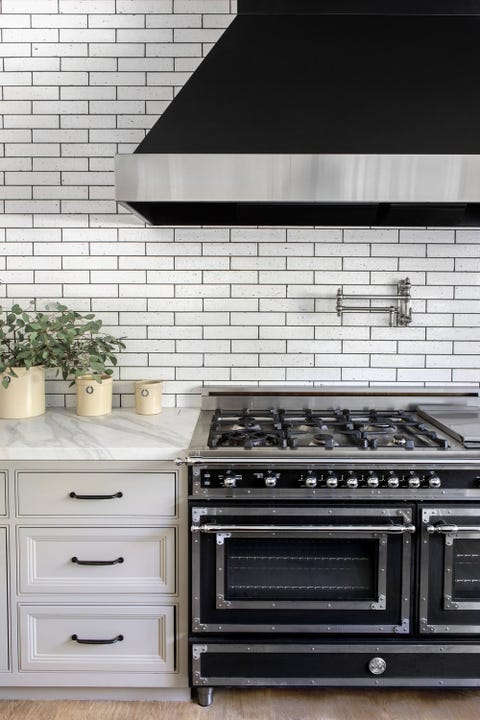 It's also low maintenance, particularly if you're using glass tile. Any mess can easily be wiped away with a damp sponge or cloth. And finally, like any good shield, a backsplash can add extra style and decoration all while protecting your home. 
There are almost endless possibilities with a variety of tiles and grouts when it comes to designing your backsplash. Let's look at some of the best tile designs for backsplashes in 2021.
Glass Subway Tiles
First, there's the classic tile choice for a backsplash: subway tiles.
Though they were originally created as 3" x 6" white glass tiles, there's now a wide selection of sizes and colors and a variety of arrangements other than the standard horizontal look to choose from. 
For example, the 2" x 4" Stratus White subway mosaic tile brings back that classic white color but with an interesting twist of grey tones swirled throughout the translucent tile. It creates something both stylish and unique. 
In particular, these lightly colored glass tiles pair perfectly with an all-white kitchen, embracing that timeless subway tile look. The brightness of the color and the shine of the glass tile will make the room feel fresher and more open. And this relaxed environment will only emphasize the feeling of order in what can be a busy part of your home. 
Accent colors can be used on the cabinets and appliances to add a pop of color and interest without taking away from the calm feeling. 
For another example, the 3" x 6" Bay subway tiles are a more colorful choice. These subway tiles would also work well in a kitchen or bathroom that has mostly white cabinets or counters. The mosaic tiles' colors and rustic style will provide extra decoration and catch your eye. 
At the same time, the simulated wood grain appearance keeps the room feeling homey and welcoming. 
Fish Scale Glass Mosaic Tiles
White subway tiles are a modern classic but there's a new tile trend that's gained tons of popularity in bathrooms and kitchens — fish scale.
As their name suggests, these glass tiles are shaped like the scales of a fish, and their visually appealing shape creates flow and unity no matter which direction they're facing. They also add a bit of fun and something more unique than standard square tiles. 
For instance, the Blue Mix fish scale mosaic tiles provide a blend of deep blue-, white-, and teal-colored tiles. 
These tiles are perfect for creating an eye-catching backsplash design, particularly when set against white countertops and light-colored cabinets. It makes the colors of the tile and their unique shape stand out even more.
Fish scale or "mermaid tile" as they are also referred to, are also a great choice for your bathroom.
If you want a more subtle backsplash, you can add the Brushed Black fish scale tiles to a bathroom styled with darker shades, like one with a black-tiled shower or dark walls. The colors will blend together, making it feel cohesive and orderly. 
Additionally, the black mosaic tiles will make the bathroom feel more modern, as black is an easy color to use as a base color for interior design. To make this stand out, you could pick a colored grout like blue or green to complement the tile. 
The Matte Blue fish scale tile is another great glass tile for a backsplash. The deep blue tile works perfectly as a contrast to lighter colors in the room. By blending blue into your design, it makes for a perfect oceanic theme
Hexagon Glass Tiles
Another popular choice for backsplashes in 2021 is the hexagon tile. This six-sided mosaic tile is a unique shape that adds a lot of interest to your home, but it's also versatile and can be blended into almost any style. 
One great choice is the Matte Light Grey hexagon tile. As mentioned, the light-colored glass tile would blend well in kitchens or bathrooms styled in similar light colors. 
However, to emphasize this unique shape, you can use a contrasting grout color, like a black on white tile pattern, or blue on white combination. 
The Matte Light Blue hexagon tile is another popular option for bathroom backsplashes. It's a color that would work in both light and dark-styled bathrooms but would make the room feel cool and fresh regardless.
For something truly unique, you could blend the two glass tiles together to create an eye-catching backsplash. 
Iridescent Mosaic Tiles
Finally, there's the luminous, futuristic mosaic tiles that are taking over backsplashes in 2021: iridescent tiles.
Glass tiles already shine under the light, but iridescent tiles come with extra flair. They also seem to change colors when viewed from different angles. 
For example, there are the White Iridescent mosaic tiles. These glass tiles almost resemble diamonds and emphasize a feeling of luxury. Their luminous quality will both make the room feel larger and draw your eye to the shining and reflective finish of this tile. 
When paired with light countertops in a kitchen or bathroom as a backsplash, it forms a modern, cohesive appearance. It could also be used as the only glowing point in a darker room to add decoration.
Importantly, iridescent tiles come in a variety of shapes, including the three styles we mentioned above! Thus, if you wanted to utilize the unique shape of the hexagon tiles and the shiny properties of an iridescent tile, you can. It opens up more possibilities for your backsplash, even while sticking with some of 2021's best tile designs.
------------------------------------------------
If you're thinking of giving your kitchen or bathroom an update for 2021 and want to learn more about some of these glass tile options, please reach out at 800-971-1442. Our customer success representatives would be happy to talk with you!
---